After years of consistent brutality that caused Hamas to launch its potent response against the occupied Israeli forces early Saturday, US Secretary of State Antony Blinken urged Palestinian President Mahmoud Abbas "calm and stability" in the violence that claimed over 200 each side.
Hamas, earlier Saturday attacked southern Israel by firing more than 5,000 rockets at the settlers from the Gaza Strip, followed by a breach by freedom fighters into the oppressive Jewish state.
According to Al Jazeera, the unprecedented attack has left Israelis in "tremendous shock".
"The fact that several villages including some towns were attacked and captured — this is something that has never happened before," the outlet reported.
Soon after the massive surprise attack, Israeli Prime Minister Benjamin Netanyahu declared war against Palestine saying that Hamas had made a "grave mistake."
The attack marked a considerable infiltration by Hamas fighters into Israel from Gaza marking it one of the most serious responses against Tel Aviv in years.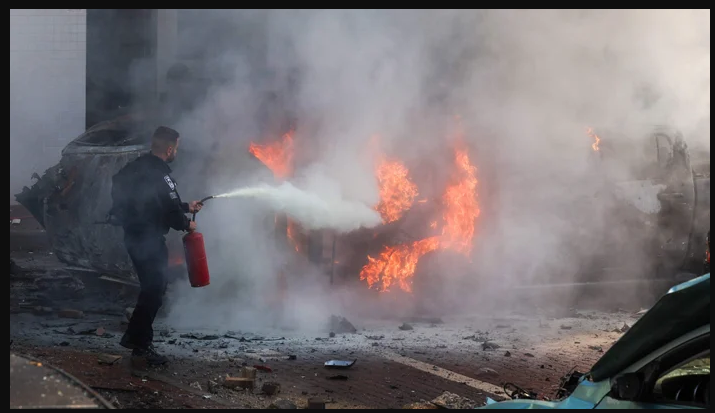 In Gaza, people rushed to buy supplies in anticipation of days of conflict ahead. Hamas military commander Mohammad Deif announced the start of the operation in a broadcast on Hamas media, calling on Palestinians everywhere to fight.
"This is the day of the greatest battle to end the last occupation on earth," he said, adding that "5,000 rockets were fired."
The last major flare-up between Israel and Hamas was a 10-day war in 2021.
"The Secretary urged the Palestinian Authority to continue and enhance steps to restore calm and stability in the West Bank," according to the State Department late Saturday.
Blinken reiterated the US' "unequivocal condemnation of the attacks by Hamas against Israel" and called on "all leadership in the region to condemn them", a spokesperson said.
Israel declares war on Palestine
"Our enemy will pay type of a price which it has never known," Israeli Prime Minister Benjamin Netanyahu said in a video statement, adding that "his country is in a war that it will win."
Speaking to Israel N12 News by phone from a Nir Oz, a kibbutz near Gaza, a woman said gunmen had infiltrated her house and tried to open the bomb shelter where she was hiding.
Israeli Defence Minister Gallant said Hamas had "launched a war against the State of Israel". Israeli "troops are fighting against the enemy at every location," he said.
The Israeli military said its forces were operating inside Gaza but gave no details.
Hamas media displayed videos showing bodies of Israeli soldiers brought into Gaza by fighters. It was also revealed that armed Palestinians were inside Israeli homes, touring towns in jeeps in the occupied areas.
Palestinian media also reported that a number of Israelis had been taken captive by fighters and Hamas media circulated video footage apparently showing a destroyed Israeli tank.
The Israeli military was aware of reports of captives, a security source said but provided no further details. In a briefing with reporters, an Israeli military spokesman declined to comment.
Prime Minister Benjamin Netanyahu's office said he would meet top security officials in the coming hours and Gallant authorised the call-up of reservists.